Think of the last time you chose a biker jacket - what made you buy it (or just want it)?
Most likely, you wanted it for the style - and hey, I don't blame you. There's something magical about motorcycle jackets that can't really be explained.
But the truth is that there are many other things to look for when you're buying a motorcycle jacket - and that's what I'll talk about in this post.
1 - The right style for the right biker
One of the most essential things you have to consider a motorcycle jacket is comfort.
While crotch-rocketers must go for the one-piece suits, we, cruiser and touring bikers should look for a jacket that has flexibility and allows for maximum movement.
Since we also usually take longer trips, having pockets (some jackets even have concealed carry pockets) to carry your stuff is definitely a good idea.
When it comes to biker jackets, nothing beats the classics. The Double-Rider, the Racer and the Pistol Pete styles are the most suited for bikers, hands down.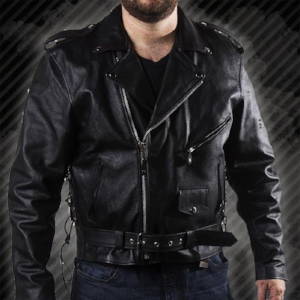 2 - A snug fit
You shouldn't get a jacket that is too loose. A motorcycle jacket should fit you snugly, without being too tight.
This ensures that the jacket does it job properly in case of a slide (knock on wood)
One thing to consider when getting a biker jacket is the riding position - that's why the classic styles (the Double-Rider, the Racer and the Pistol Pete) are the most suited for cruiser and touring riders - they were created specifically for the riding position of those motorcycles.
Motorcycle jackets usually have longer than usual sleeves - since they're made for riding, and you're going to use them with your arms extended.
3 - Choose the material
A proper motorcycle jacket should be made out of proper leather or textile.
The protection that the jacket gives you is directly correlated to the quality of the material and the way it's manufactured.
Leather offers the best protection, with higher abrasion resistance and superior protection, should you slide.
There are many types of hide that manufacturers use - goat, calf, pig, cowhide, horsehide, even kangaroo.
The best ones are still cowhide and horsehide - they are sturdy and offer amazing protection.
You should choose jackets that have a thickness of at least 1mm - if you're going with goat or calfskin, then, at least 1.2mm (since they're softer)
Textile jackets are usually made out of nylon or polyester mesh. They are much lighter and offer superior breathability.
Textile jackets are more comfortable, especially when it's hot - plus, they're waterproof.
Downside - they don't have the same abrasion resistance as leather, so the protection factor is much lower.
4 - The right features
There are many different things that can be added to a motorcycle jacket to make it more usable and comfortable.
We'll list some of the MUST HAVE and some of the DESIRABLE features next
Must Have features on a motorcycle jacket
Quality zippers and snaps - you don't want your jacket to pop open when it comes in contact with asphalt
Zippered sleeves - the cuffs of the sleeves could slip up over your wrists in case of an accident, and a zippered sleeve prevents that from happening
Tight collar - your jacket of choice should either have snaps on the collar or a mandarin style collar, to make sure it doesn't flap and slaps you on your face while going 60+ mph down the road
Action back - this is a special cut where the sleeves connect to the jackets. It ensures you have freedom of movement, which keeps it comfortable for a longer period of time.
Desirable features on a motorcycle jacket
Vents - vents keep the airflow when it's hot - that way you can still ride with maximum protection even on hot days
Zip-out lining - quality lining makes riding in the cold weather a better experience. The ability to zip it out makes your jacket suitable for both cold and hot days alike (especially when coupled with vents)
Pockets - when you're carrying your wallet, documents, mobile phone… it makes a difference Concealed carry pockets - 2nd amendment all the way
Side size adjustment - either in the form of laces or zippers, if you have a way to adjust the size of the jacket, you can chug down your beer without losing your jacket. I know I lost a few.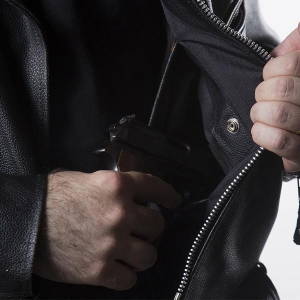 5 - Armored or non-armored?
While many will claim that motorcycle jackets SHOULD have armors (protectors), this is not necessarily true.
Armors are a MUST if you're riding fast, like crazy - aka a crotch-rocket - but for cruisers and touring, it's not absolutely necessary - it's a nice addition, for sure, but it has 2 problems:
Less comfortable Jacket can't be used when you're off the bike (looks kinda stupid)
So, if you want to go for the highest possible level of protection, choose an armored jacket.
If you're a responsible rider, who wants more comfort and a jacket that can be work on and off the bike - an unarmored jacket will do.
So, there you have it.
Once you're sure you got a jacket that is a proper one, then you go for the looks.
These 5 points will help you make sure you're choosing the perfect motorcycle jacket for you - and when you get one of those, they can last for a lifetime.