A Comparison Guide For Bikers
Written by Lee - June 21st, 2018
Last edit: October 15th, 2018

---
If you understand the benefits of concealed carry, you likely have your gun on you at all times.
But, most bikers struggle to decide how they will carry while riding. And that's where this guide will help you with.
This guide will compare the pros and cons of each style of concealed carry and grade each style based on the following 3 criteria: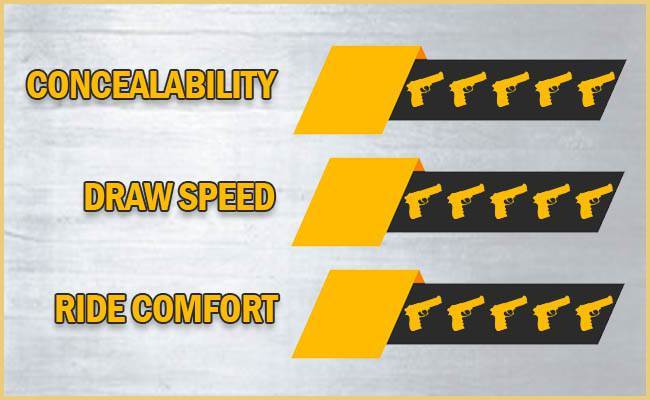 Every method will be evaluated by concealability (ability to actually conceal the gun), draw speed (easeness of access and actual draw speed), and ride comfort (how suitable it is for using while riding a motorcycle).
The grade scale goes from 0 to 5. 5 being perfect, and 0 being the "are you kidding me" score.
This score will be called GFB (grade for concealed carry bikers) and there will be a showdown at the end, in chapter 6.
Some styles of concealed carry have been left out simply, because they're not suitable for motorcycle concealed carrying, such as ankle carry (which doesn't conceal your weapon at all while riding) or gun cases (which might serve as backup, but not as the primary carry method).
---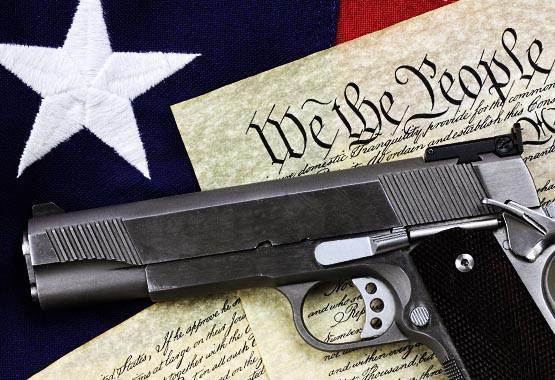 ---
---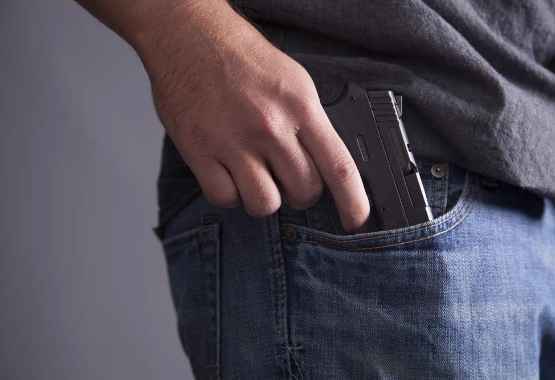 Quick and convenient - but bulky and uncomfortable
Pocket carrying is pretty much the "lazy man's way" to carry.
It's convenient, doesn't require extra gear and it's pretty easily accessible when you're not sitting down.
On the other hand, it's SUPER bulky so it doesn't conceal well. While riding, it gets uncomfortable and hard to draw and if you're not careful you may just shoot yourself while drawing it.
PROS: No extra gear, convenient
CONS: It gets in the way while riding, makes it for a super-slow draw when sitting down, the gun might roll out of position, it gets super bulky and not very well concealed, extra gun printing, danger of shooting yourself.
POCKET CARRY GFB (Grade For Bikers)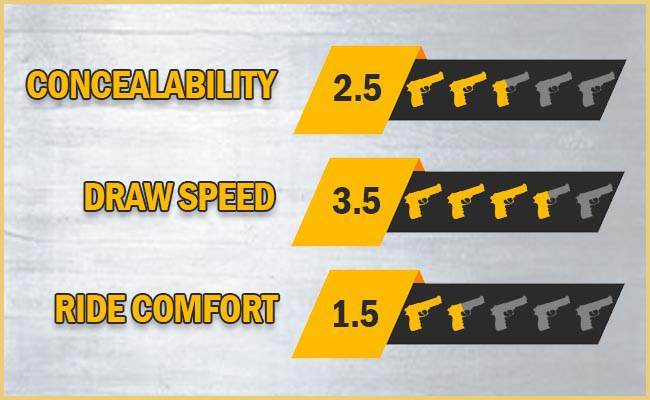 2 - Belt Holster Carry (IWB and OWB)
---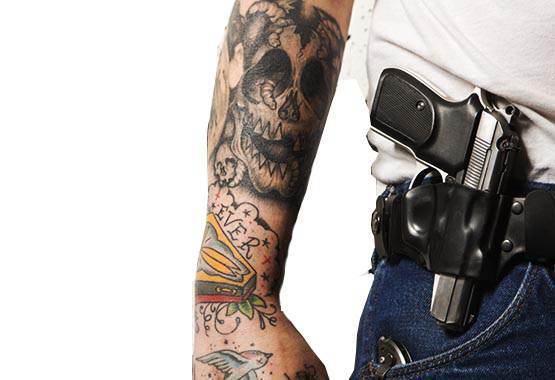 Superb method - but not really the best for riding
Belt carry is probably one of the best ways to conceal carry. It's convenient, fast and easy to access - but not much so when you're sitting down for a long period of time (poker runs, anyone?)
And the more your motorcycle requires that you lean forward, the worst the experience you'll have with a belt holster, be it IWB (inside the waistband) or OWB (outside the waistband).
If you know a thing or two about concealed carrying, you might find it weird we have added both IWB and OWB under the same category - but when iriding your motorcycle both options, have pretty much the same problems.
If you carry appendix or even up to 3 o'clock, a belt holster won't allow you to sit comfortably (plus - the muzzle will be pointing at you at all times).
Unless you go for a rather radical 5 or even 6 o'clock position (which really isn't ideal when carrying), a belt holster won't really work for when you're riding.
All of these factors can make it super hard to access the weapon, which ultimately will slow your draw down - (especially if we're talking about carrying IWB).
One last issue - I've heard a handful of stories of people who lost their guns on the road. Vibration and bumpy roads probably account for it, but even a great holster may be poorly snapped shut once in a while.
It can be a great idea to have an IWB or OWB holster for when you're not riding, but, when it comes to riding and carrying, these reasons make it not the best option.
PROS: Great for general situations, one of the best ways to carry
CONS: It gets in the way while riding, makes for a super-slow draw when sitting down, may require extra clothing for total concealment, horror stories of guns falling out of holsters while riding, gun may print, and gets worse with bigger guns
BELT HOLSTER GFB (Grade For Bikers)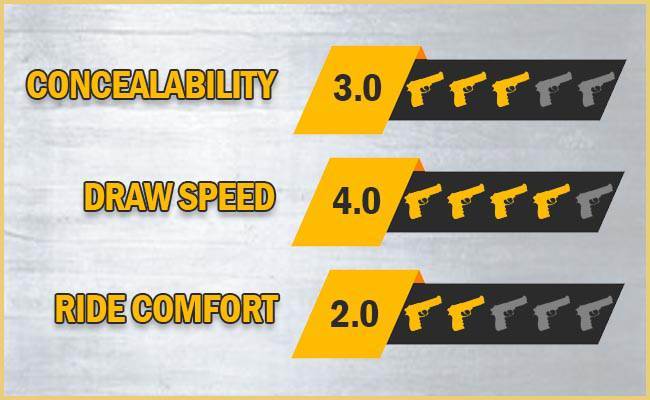 3 - Shoulder Holster Carry
---
Some movies come to mind when I see a shoulder holster
I gotta give it to you: shoulder holsters just look badass. I blame Eastwood on this one.
The main benefit of a shoulder holster is that they keep your pistol above your waistline - which makes for a more comfortable ride and clearer access.
But, unless you want everyone within a mile radius to know you're carrying you gotta keep your jacket or coat closed at all times. And when your jacket is closed, your draw speed will suffer, specially because with bumpy rides, the holster may slip out of place.
PROS: Stays above waistline, good access
CONS: May slip out of place, may drop your gun, will require extra clothing for total concealment, gun may print
SHOULDER HOLSTER GFB (Grade For Bikers)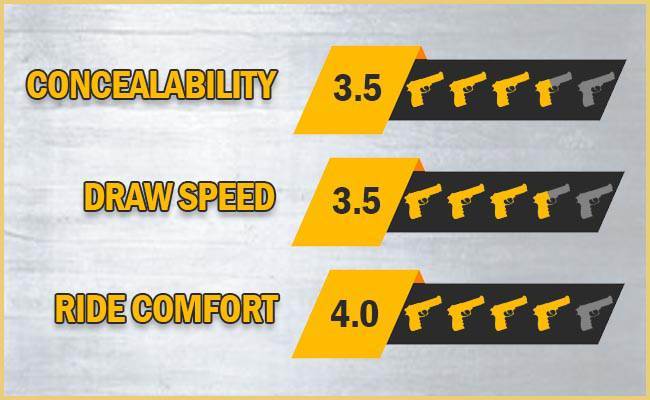 ---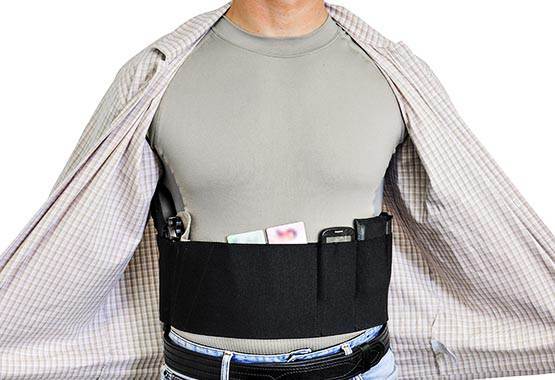 Versatile - you can carry other items, but access and concealment are limited
Kangaroo carry usually makes for a very versatile carry which is useful for carrying larger sized pistols and extra mags
There are bands, like the picture above, and even t-shirts that have embedded carry pockets which offer multiple different styles for everyone.
However,the main problem is - it's super slow when it comes to drawing your weapon. They need a ton of practicing to get it down, plus it will always be a bit awkward.
Also, they need extra clothing for total concealment - and if it's cold, they may get buried under many layers, making it impossible to reach, especially while sitting down.
One more thing - they can get heavy and feel a bit awkward, because they will somewhat constraint your range of body movement.
PROS: Comfortable, above the waistline
CONS: Takes some practice to get the gun draw right, may restrain body movement, will require extra clothing for total concealment, will be hard to access, may print your gun without extra clothing
KANGAROO CARRY GFB (Grade For Bikers)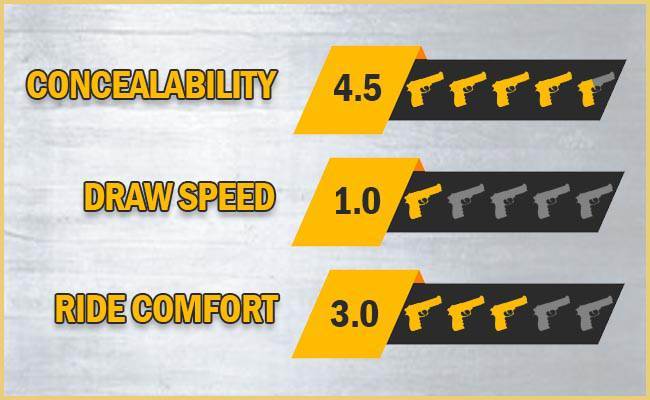 5 - CCW Ready Jacket/Vest
---
Deeper pockets allow for bigger guns to be securely concealed on biker jackets and vests while leaving no gun print
When it comes to CCW Jackets, there are so many options out there.
Some just have big sized pockets that they call "concealed carry pockets". Others look so "tactical" or "military" that it would be easier to just yell "HEY I GOT A GUN" to everyone. Goodbye, concealment factor.
If you're serious about concealment, a CCW Ready Biker Jacket or Vest is a solid choice.
Usually, they are made to look just like regular biker jackets (badass by nature, by the way) - which adds concealment points.
Also, true CCW Ready apparel should have actual concealed carry pockets. With technology to keep your gun and extra magazines in place.
Preferably, the concealed carry pockets should be on the inside of the jacket so your gun is secure, always in the right position and within reach with a single, fluid motion.
Lastly, cc pockets can usually be made versatile enough to carry larger sized pistols, allowing you to choose your carry based on preference, not size.
If a jacket or vest has all of these features, it is pretty much concealment heaven. It's above the waistline, there is no gun printing (only true for jackets made with motorcycle-grade leather), and it just looks badass.
PROS: Comfortable, above the waistline, no gun printing, simple to get the drawing movement down, display the classic biker looks we all love, works wonderfully well sitting down or standing up, more flexible with gun sizes.
CONS: On hot days, you might not be able to keep your jacket or vest when not riding - so you might need a belt holster for when you're not riding, you lose a bit of draw quickness when your jacket is zipped up.
CCW JACKET/VEST GFB (Grade For Bikers)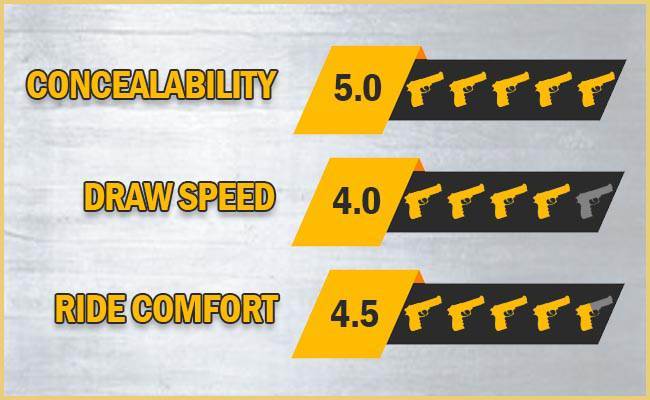 ---
Ok, so let's take the averages and see how each concealed carry style did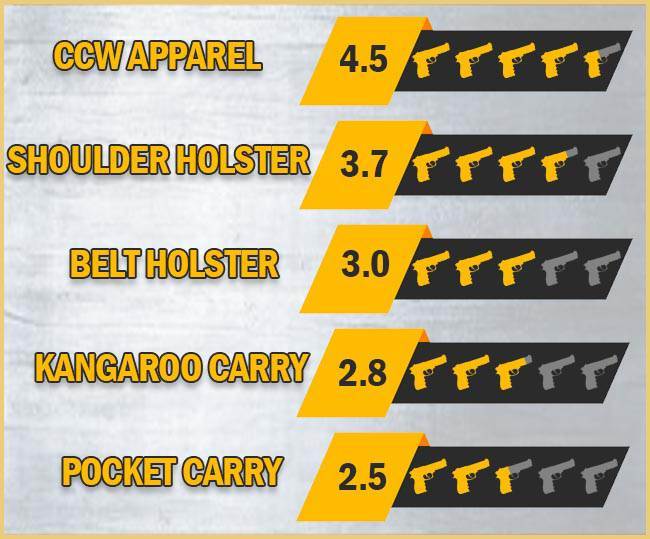 ---
Concealed Carry Apparel has came out first in our comparison because of 3 main points:

- They are the perfect gun concealers - they don't look tactical and don't display any gun printing
- They offer superior access and position lock - a jacket or vest done right will ensure your gun is always at the right position and readily available
- Nothing else suits every riding position better - whether your motorcycle leans forward, straight or backward, concealed carry biker apparel won't hurt, get in the way or even restrain your movements, which is a big deal when you're going on long rides.
Those are the main reasons that make Concealed Carry Biker Jackets/Vests the best option for bikers who carry.
Looking for Concealed Carry Biker Jackets or Vests?
Click the image below to find out more about our

Concealed Carry Biker Gear with Quick-E-Draw Pockets
---